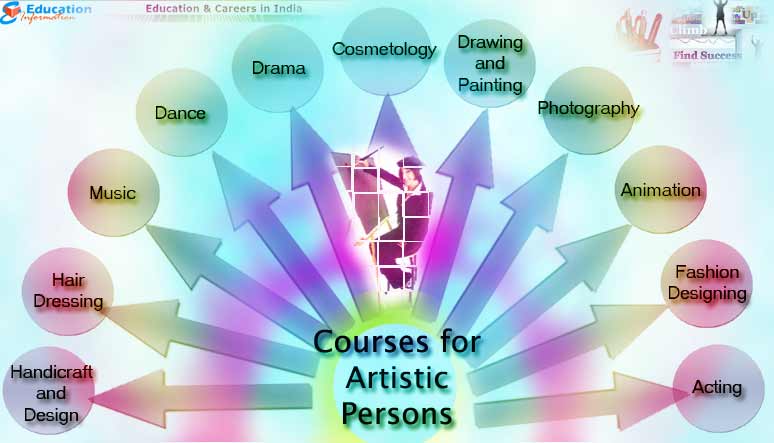 Nature of Artistic Persons and courses for them
Persons with artistic personality have inherent talent like singing, drawing, painting etc. These people have liking for beauty, color, music and natural surroundings.
These type of persons can be successful in doing some original creation, which involves beauty. The career path for them is Arts, under which they can choose from following courses -
Handicraft and design
Hair Dressing
Music
Dance
Drama
Cosmetology
Drawing and Painting
Photography
Animation
Fashion Designing
Acting
Fees for doing short term diploma for any of the above courses can range from 25,000 to 50,000 Rs per annum. PG Diploma fees is 1 to 1.5 lac Rs per annum. Graduate courses cost 50,000 to 1 lac Rs per annum.
Entry level eligibility for diploma courses is 10th and 10 + 2 for graduation in music, dance and fashion designing. Graduation is required for admission in PG diploma courses of acting, photography and animation.
One can expect a minimum salary of 2 lacs Rs per annum after completion of diploma, 3 lacs Rs per annum after graduation and 4 to 5 lacs after PG Diploma in artistic courses.